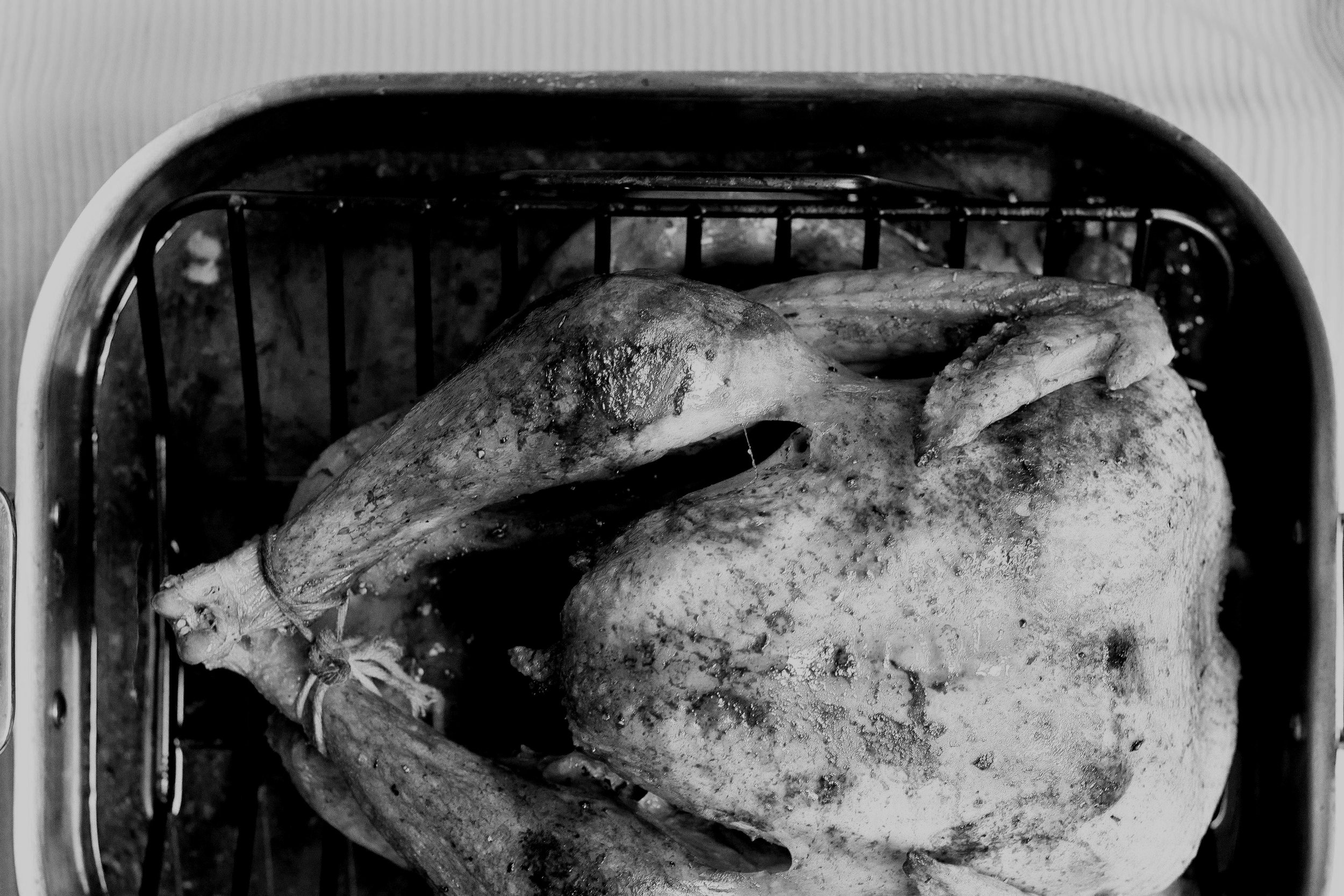 How to
Gather Ingredients and Tools. Wash Herbs and prep Ingredients as indicated.

Preheat the oven to 430F°, then line a Roasting Pan with Foil.

Remove any giblets and neck from the Chicken cavity and save, then trim any excess fat.

Rinse Chicken under cold water (don't forget to rinse inside the cavity), then pat dry with Paper Towels.

Combine Camelina Oil with melted Butter and pour over the Chicken - don't forget to get under the skin and inside the cavity as well.

Season the Chicken with Salt and Pepper, combine minced Garlic and chopped Parsley in a Small Bowl and rub all over the Chicken (including under the skin).

Take Garlic Head that has been halved, along with the Rosemary, and stuff into the cavity of the Chicken.

Take the Butcher's Twine and wrap around the base of the feet and wings so that they are up against the body to ensure even cooking.

Place Chicken in the Roasting Pan breast side up and put in the Oven.

Once the Chicken is placed in the Oven, drop the temperature down to 375F°

Cook for 30 minutes, then baste with the juices that have started to come out of the Chicken.

Cook for another 30 minutes (1 hour total), then use a Thermometer to check temperature. The Chicken is done when the thighs read 165F°. When you remove the Thermometer, the juice that comes out should be clear.

If the skin isn't crispy at this point, turn on broil, and crisp the skin until golden. NOTE this will go quickly, so don't walk away!

Remove Chicken, cover with Foil, and let rest for 10 minutes. Reserve leftover juices.

Carve and enjoy!
Bonus!
Add any Spices and Herbs you prefer.

Save all bones from Chicken after carving meat to make our Anything Stock.

Save leftover juices for making Anything Stock.
INGREDIENTS
1 Chicken Whole (4-6 Pounds)

3 Tbsp Camelina Oil

¼ Cup Butter, melted

4 Garlic Cloves, minced

2 Tbsp Parsley, chopped

1 Garlic Head, cut in half across the middle

3 Rosemary Sprigs

2 Tbsp Salt

1 Tbsp Pepper
TOOLS:
2' Butcher's Twine

Knife

Cutting Board

Roasting Pan

Small Bowl

Measuring Cup

Measuring Spoons

Thermometer

Foil

Baster

Paper Towels

Airtight Container
Storage
Airtight Container in the Refrigerator up to 5 days.
Use Your Whole Roasted Chicken in the following Recipes: